Most of the products that are sold on the European Market should have a CE Mark. Presence of CE Mark in a product New Approach Directive and Global Approach Directive were created in order to clear the technical barriers and create the single market in the territory of the European Union. Thus, the products being introduced to the market of the European Union Member States have to demonstrate the compliance with the harmonized European standards.
The CE Mark is the safety sign, which is testimony to the fact that the product complies with the European ЕN standards, including ecology, health protection and occupational safety. The CE Marking declares that the manufacturer assumes all responsibilities for non-compliance of the product with requirements of Directives based on New Approach and Global Approach. The CE marking shall be affixed only to products, which is subject to and governed by the EU Directives and Regulations.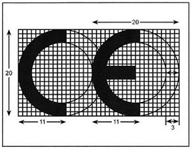 The manufacturer shall draw up the Declaration of Conformity and declare its responsibility for quality, safety and compliance of the product with applicable directives. Issue of the Declaration of Conformity is the legally binding requirement.
CE Marking on a product
The CE Marking on the product is the official permission for legal sale of certified products on the market of the countries of European Community and within the European free trade area;
– Ensures unhampered transportation of products within the single European market;
– Demonstrates to the customers that the product complies with the requirements of standards and directives;
– Promotes the enhancement of trust towards the manufacturer;
– Promotes the increase in sales volume and degree of consumer satisfaction.
The manufacturer has to undergo the following mandatory procedures to get the CE mark:
– to perform the risk assessment, i.e. to assure of the safety of products and compliance of products with EC Directives;
– to prepare detailed instructions for the product;
– to perform tests of the product;
– to prepare the relevant application for marking of the products, i.e. the Technical Documentation File.